Bridle - Halter Bridle - Classic
Bridle - Halter Bridle - Classic
HALTER BRIDLE COMBINATIONS  -  A Favorite of Competitive, Endurance and Pleasure Trail riders!
We've made Halter Bridle Combinations for over 30 years!  See pictures of tack sets we made in the 80's, still in use today, on our facebook page.  With so many options available, please do call us to help you "Build your Bridle".  All sizes and colors combinations are available as well as matching Reins and Breast Plates/Collars.
Start with choosing one of these two styles, both allowing you to drop the bit from the halter part of the bridle.
1.  Classic Halter Bridle comes standard in Black or Dark Brown BETA in 5/8" with 3/4" Brow and Nose band with Stainless Steel Hardware. 
2.  Deluxe Endurance Halter Bridle Combination by Parry Tack, uniquely offers a separate Snap On Browband Headstall which fasten to the Halter.   
Both of these bridles allow a quick removal of the bit while leaving the halter portion on your horse.  Standard strapping measures 5/8" wide with 3/4 and 1" Browbands.
Overlay Trims - in matching or contrasting color for Pop on your Brow and Nose band

Underlays - in matching or contrasting color, a more subtle way of including your color on the Brow and Nose band

Hardware - All Stainless Steel in traditional English, Western Roller Buckles and the Jeremia Watt's Horseshoe Hardware

Bit Hangers - Standard Snap onto both cheeks or an Adjustable Crown Bit Hanger that independently slides over ears and rests on crown with optional Snap piece

Nosebands - Standard 1 piece Noseband with Ring for tieing or Optional 2 Piece Noseband with Halter Squares and adjustable chin strap

Curb Strap and Curb Chains also available
Reviews
Featured Products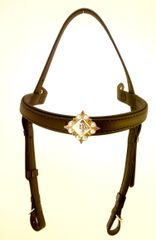 Bridle - Add On Bridle
$55.00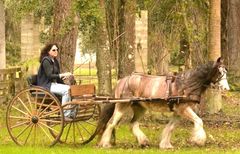 SINGLE - DELUXE DRIVING HARNESS
$500.00