Biothane Dog Cart Harness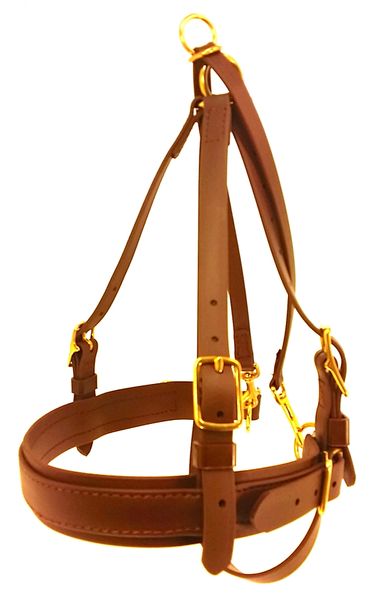 Biothane Dog Cart Harness
Custom Biothane Padded Dog Cart Harness
Our custom designed Dog Carting Harness is a smaller version of our Mini Horse Harness and has received awesome reviews! Increasing numbers of breeds are rapidly becoming involved in the fast-growing sport of dog carting. This deluxe harness is designed for years of use, be it parades, competition carting, or just taking the kids for a ride in the wagon.

**** Picture does not show traces or shaft loops



Designed for durability and function this adjustable carting harness is just what your dog needs to pull two wheeled carts, wagon styled carts or any cart with a singletree type of attachment.




These harnesses feature a double layer of durable 1" Biothane webbing with a lining of 1 1/2 inch Foam backing for a soft padding on the chest strap.




Five heavy duty stainless steel buckles allow for a high degree of adjustability to insure a perfect fit.




Two adjustable, Biothane traces with Stainless Steel snaps are included and are used to attach the harness to the cart. This harness is used with traditional drafting carts that have a singletree and two points of attachment for the harness





Colors: Black, Brown, Red, White, Blue, Green, Orange, call for more




Padding: Black or Brown



Sizes:
X-Small for 35–60 lb. dogs
Small for 60–100 lb. dogs
Medium for 100–140 lb. dogs
Large for 140–200 lb. dogs



If you are not sure what size to order, call (407) 230-7370 and we will be happy to help you make the best choice.






X-Small - 40-60 lbs.
Small - 60-100 lbs.
Medium - 100-140 lbs.
Large - 140-200 lbs.
X-Large - 200-250 lbs





With so many horse enthusiast traveling with their beloved dogs, requests for dog harness is a wish we fulfill.

Simply send us your dog's measurements or better yet, mail us your worn out Dog harness or collar and we'll remake it in Biothane in your choice of color. We can take your metal tag off and re-fasten it to your new dog harness or collar. (We make jewelry too)
These dog harness' fully adjustable with Never Rust Stainless Steel hardware. Our harness is made with your dog's comfort in mind. Matching leads are also available.
Price listed is for small harness. Build your own with options to see your dogs size and price. Call for price by measurement.
See the FAQ and Color page on the menu bar for information about Biothane and the color choices.
Reviews
Featured Products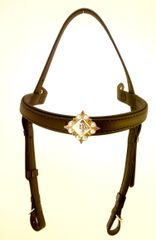 Bridle - Add On Bridle
$55.00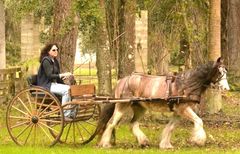 SINGLE - DELUXE DRIVING HARNESS
$500.00