SINGLE - DELUXE DRIVING HARNESS
SINGLE - DELUXE DRIVING HARNESS
DELUXE DRIVING HARNESS
We've designed this harness to be used in Combined Driving Events, Shows as well as that Pleasure drive.  It is available as a single or team harness. 
Our Deluxe Driving Harness has a of a box loop, Blinded Bridle, Overcheck, Stainless Steel hardware and BETA Driving Lines. We've "beefed it up"  with more sewn in padding on the breastplate, breeching and gig saddle - no need for separate pads.  As well as making the gig saddle straps longer towards the girth making this harness more "substantial".  We've added decorative chain to the browband, a full Cavesson Noseband, bit and matching Hold Backs.   
There is no need for pads with this harness as the pads are built in.  However, pads are available for this harness - we suggest the Neoprene Pads.
If choosing the Hames Style Harness, Collar is sold separately.
Options include, but not limited to:
Shiny (Like Patent Leather Look) or Matte (Dull) Finish Biothane
Plain or Spotted
Breast Plate Style Harness or Hames Style Harness

 

Over Check or Side Check on Bridle
Quick Release (For Loop End Shafts) or Curved Shaft Loops (For Straight End Shafts)
Solid Traces/Tugs or Buckle In Traces/Tugs
Breast Collar Style or Hames Style Harness
Split Breastplate available with Pads (not available with Buckle In Tugs)
Braided Driving Lines available 
Color Inlays available on Gig Saddle
Ornaments (Diamonds, Hearts, Stars) also available
The price listed above is for #9076 Mini size, Plain (No Spots) and Solid Traces/Tugs. 
Price for Horse Size is $600. 
Brown Harness in Pictures has optional Pigeon Wing Blinders, Pads and Brass Hardware - Beautiful!
This harness is available for mini, pony, horse and cross size.  
Please see OPTIONS below to "Build your own" with the appropriate pricing.  
Please do call with any questions or to order by phone.   888-939-8225   or cell:  407-230-7370
Reviews
Featured Products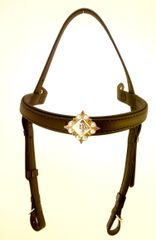 Bridle - Add On Bridle
$55.00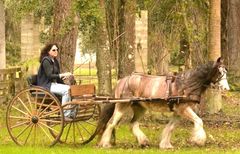 SINGLE - DELUXE DRIVING HARNESS
$500.00