If you're considering Biothane Harness, Bravo to you!  

Parry Tack is here to help
Please do call with any questions or to order by phone  888-939-8225 or cell 407-230-7370
When shopping for new harness, the possibilities are endless, making it easy to become overwhelmed with option choices.  
We will patiently answer any questions, share the many options available and guide you to the harness that is perfect for you.  
If you do not see it on the website, it does not mean we don't make it,  We probably do and may have it in stock!
Driving Harness Options to Consider, but not limited to:
Single, Team, Tandem, Unicorn, 4up or more.  Do you want a team that can go sing;e, team and tandem? We can do it!




Breastplate or Collar and Hames Style? Buggy, Driving or Farm Style?




Finish: Shiny (Patent Leather Look) or Dull (Matte) finish?




Bridle:  Open, Blinded, Square, Round, Pigeon Wing?  Overcheck, Sidecheck or No Check?  Clyde White Straps? Noseband Cavesson? Face drop? Crown Snap?




Hames:  Stainless in Black or Polished? Buggy or Farm Style? Show Tops?

Leather Collars:  Top Grain, Split Grain, Patent Leather? Mule Style? Sweeney, Half Sweeney?

Shaft Loops:  Quick Release (for loop end shafts) or Curved (for straight shafts)

Traces / Tugs:  Solid, Buckle In, Hook In?

Breastplate:  Straight, V Style, Deep V Style, Split Breast Style?

Lines:  Black, Brown, Pain, Braided, Leather, Grip, Color

Decorations: Color Inlays, Ornaments (Spots, diamonds, hearts, stars), Housing
Like most of us, you have leather harness and tack, it works, it's beautiful, traditionalist' require it, as do some rulebooks.  Today, more and more judges allow the synthetics.  The work involved in maintaining leather harness is only one reason to switch to Biothane Harness.  Biothane has been used in the Equine industry - Harness Racing - since 1977.  Parry Harness & Tack was one of the original companies associated with Bioplastics, the inventors of Biothane.  Biothane "like" products are made in China, Australia and here in the USA.  Whom ever you choose to make your new harness, insist on Authentic, USA made Biothane.
Parry Tack coined the phrase: "Truly, the last tack you'll buy.....    in that color"
---
Use the Measurement Guidelines below to help us make the perfect harness & tack for you. 
Standard Measurements for Single Horse Harness
| | | | | | | | |
| --- | --- | --- | --- | --- | --- | --- | --- |
| SIZE                     | HEIGHT                | WEIGHT                 | COM                 | BROW          | GIRTH             | OVER LOIN            | BREECHING |
| Mini | | | 28 - 38"            | 13                 | 42 - 55             | 24 - 32 | 28 |
| Small Pony           | > 42" | | 32 - 40 | 14 | 47 - 69 | 28 - 38 | 34 |
| Large Pony | 41 - 46" | | 34 - 42 | 15 | 54 - 76 | 32 - 44 | 38 |
| COB | 13 - 14.3 H | 700 - 975 | 38 - 46 | 16 | 64 - 86 | 46 - 54 | 40 |
| Horse | 15 - 16.3 H | 1000 - 1200  | 40 - 48 | 17 | 68 - 90 | 46 - 54 | 44 |
| Cross | | 1250 - 1400  | 44 - 52 | 18 | 72 - 94 | 50 - 58 | 48 |
| Draft | | 1400 - 1600 | 50 - 56 | 20 | 78 - 104 | 50 - 62 | 50 |
---
How to Measure your horse for Harness
COM - Measure from Corner of mouth on one side, over poll, to corner of the mouth on other side.
Noseband - Measure approx. 1 1/2" (2 Fingers) below the prominent cheekbone.
Browband - from back of ear, across forhead to back of other ear.

Throatlatch

:  Measure entirely around the head/neck.



Height -

 

Measure from wither to ground.

Girth - 

Measure all around the horse where the girth and saddle sit, behind the withers.

Back Band - Measure from the back of where the gig saddle would be to the base of the tail.
Breastplate - Measure from just behind the elbow, around the front to just behind the elbow on the other side.
Breeching: Measure Flank to Flank - Around buttocks
Collar Measurement - Call for Instructional Video
Hip strap - Measure from top of the britching to the top of the britching on other side.
Neckstrap - Measure from the top of the breastcollar to the top of the breastcollar on the other side.
Center of chest to point of buttocks.
Trace length - 
Breed of Horse, Height & Weight

Measure the length of your horse (flat) end to end (not around)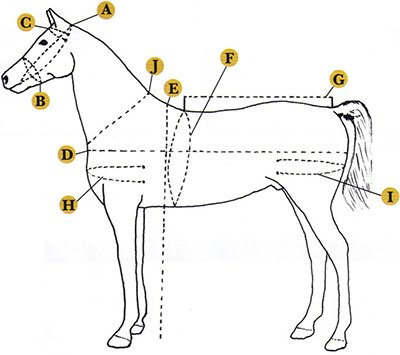 ---
How to Measure for Riding Tack
             Measure for Bridles




Browband:  Behind each ear to encompass Throat and Crown Straps.
Crown/Cheeks:  Corner of Mouth over crown to Corner of Mouth
Noseband:  Around Nose below check bones
Throatlatch:  Around head at throat.

         Measure for Breast Collars / Plates


Shoulder Straps (2): From center ring to shoulder ring
Girth Strap: From Center Ring to Girth
Saddle Straps (2): From Top of Shoulder Strap Ring to your saddle
Wither Strap:  From ring to ring over wither

          Measure for Halters

Noseband: around nose below cheek bones.

Crown:

 Noseband to Noseband 
Throat Strap: Top of check ring to top of cheek ring
Jaw: Or connector strap between Nose and Throat